Thank you for your interest in advertising with Seward City News.
It is our mission to provide advertisers with industry-leading technology that will promote their businesses to a large and loyal readership.
Seward City News (SCN) is an online advertising and publishing service in Seward, Alaska. Our site averages over 90,000 page views every month. We believe we offer the best method of promoting your business within the Seward community and surrounding area.
SCN offers a unique model to deliver news and information.  In addition to our paid reporting staff, SCN embraces a citizen-based contribution system that instantly delivers current and relevant community information through our WordPress-powered news feed.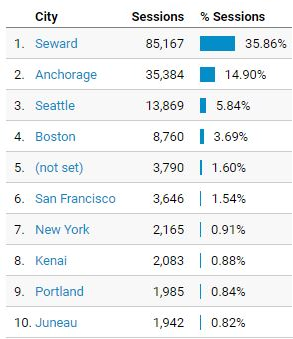 Statistics
SCN uses the powerful Google Doubleclick for Publishers online advertising service and Google Analytics service from which we can provide our advertisers with valuable reports to gather feedback on the success of advertising campaigns.
sewardcitynews.com received over 860,000 page views in 2016.
Over 60% of our site traffic originates from other Alaskan cities and the lower 48 states.
Social Media
Every SCN article is automatically published to the timeline of our popular Facebook Page that has over 2,000 followers, and a rapidly growing fan base.  Twitter, RSS, and other social network components are also integrated into our site and constantly increase visitor traffic. Your ad will also link to your web site, Facebook Page, or any other web pages that you own.
Advertising Rates
We use the powerful and flexible Google Doubleclick for Publishers service to place your advertisement. All advertisements are placed on the sidebar and in-article, and rotate their order in a random fashion on every page load.  See the current advertisement's to the right for examples of the different ad sizes we offer.

The rate chart above does not include the city and borough sales tax of 7%,  although this tax is capped at a $35 maximum for orders of $500 or greater.
A 10% discount is available to qualified non-profit organizations.
Exclusive in-article advertisements are available for an additional fee.
Seward City News can create your ad for you at no additional cost. We encourage businesses to provide their own logos and branding information. Company logos and branding can also be created by SCN for an additional fee. Current ad placements are edited free of charge.
Ad creation is a free service provided to SCN customers to be published on sewardcitynews.com and valdezcitynews.com only. These ads are not to be redistributed to other publications. However, our graphic artists are available to create ads for other publications for an additional charge.
Prices are subject to change between peak and off-peak seasons. Current customers are not affected by rate changes during current campaigns.
Classified Ads
Visit our Classified Ad Section for rate information.
Contact Us
If you have any questions or would like to place an order, contact us any day of the week.
907-362-3070
Seward Data Services LLC
P.O. Box 2096
Seward, Alaska 99664