Seward Energy Forum & Fair took place last weekend at Avtec! This fair brought light to clean, alternative sources of energy such as geothermal, biomass, solar, wind, and hydro energy. Students from K-12 made art inspired by this subject matter and did a great job! This show was juried by the public and has amazing prizes from local businesses! Here are some of them! More pics here.
Emma Moore – HS First Place! Millers Landing Caine's Head Full Day Kayak Paddle and Hiking Adventure for two!
Ruby Lindquist – HS 2nd Place! Alaska River Company Rafting and Fishing on the Kenai River!
Selma Casagranda – MS 1st Place! Kenai River Trips Kenai Scenic Float for 2 People!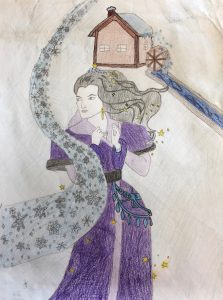 Antilleon Atcherian – MS 2nd Place! Kayak Adventures 2 Free Half-Day Tours!
Heleana Backus
Kaylee Brockman
Mikayla Dumars
Elena Hamner
Case Estes
Daisy Terry
Jessi Hood
Maddy Athey
Laurel Correa
Lydia Jacoby
Isiah Harris
Karlye Ebberson
Preston Jeffords
Lucy Hankins
Matthias Wood