Seward High Art Students looked South to Aboriginal Australians for inspiration for a painting project.  The indeginous people of Australia have been creating works of art covered in dots for tens of thousands of years.  They dip sticks into pigment to stamp out dots historically on bark, rocks, logs, and today on canvases.  These dot patterns tell stories and map out journeys.
SHS Art Students created paintings for the National Oceans Science Bowl Art Show with Ocean themes .  We drew out our designs, painting solid color down, and then used paint pens to decorate with dots.  This was a super fun project and they all did a great job!
Jasmyn Calhoon
Rhett Sieverts
Kelsey McKean
Justin Schutter
Brandon Moore
Dustin Newman
Darci McFaul
Ryan Johnson
Erin Doty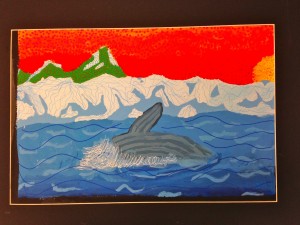 Erin Spradlin
Roma Hamner
Elannah Camp
Grace Callicut
Cassidy DeLand
Michael Walker
Diana German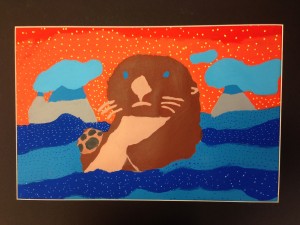 Kinze Hauze
Erin Lane
Brittany Baldwin
Dakota Nickell
Zack Maly
* The NOSB Art show is at the Rae building this year and will be up through the Month of March.  It includes high school art from around the state.